Alamo Heights High School
Class Of 1969
Growing Up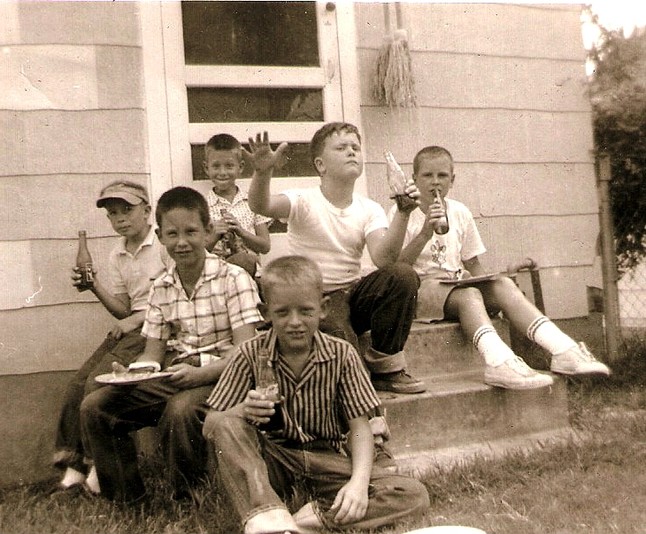 Toby French's Birthday Party, 1960 - Clockwise, from front: Steve Holloway, Mark Barton, Bob Buchek, Ricky, Tony Sisk, Toby French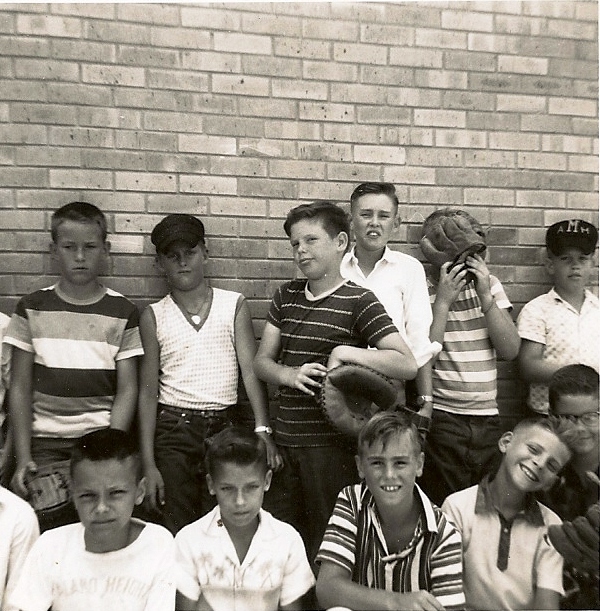 1962 - Alamo Heights Baseball Players - TOP ROW: Ev Sewell, David Masters, Dick Adam, Freddy Dieroff, ?, Barth Rees FRONT ROW: Jeff Middleton, Steve Schultz, Toby French, Marty Harris, John Scott Beauchamp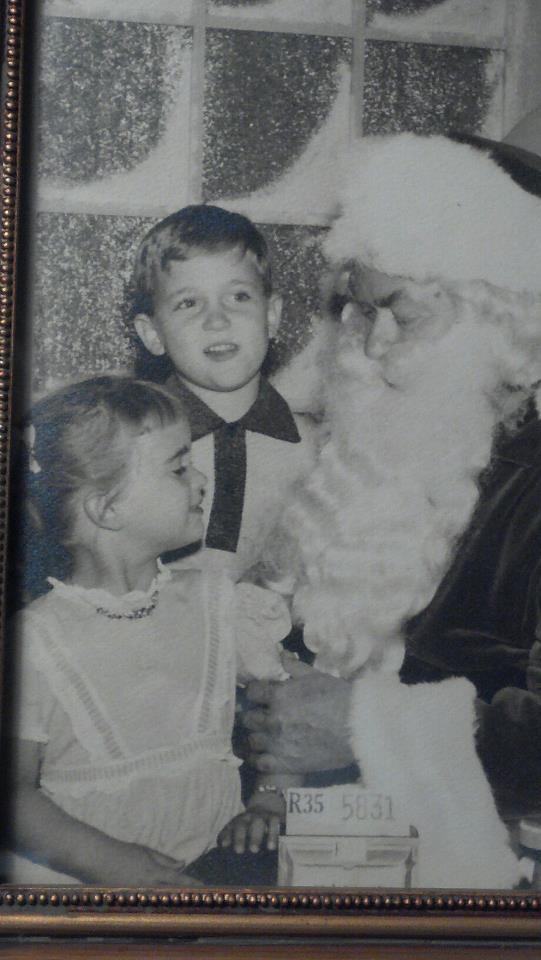 Dennis Kost and Jana Kost with Santa in a very special Christmas photo
.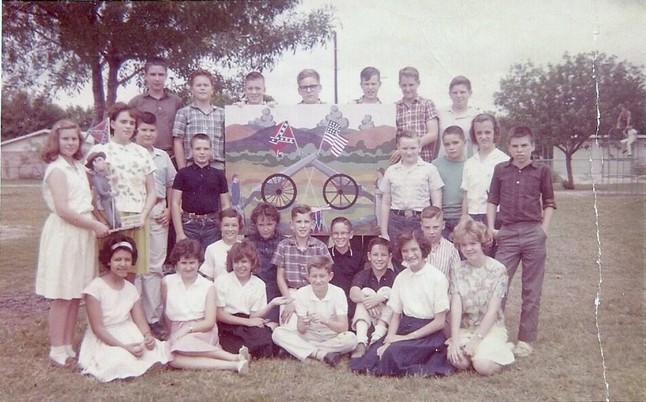 Woodridge - 6th grade - May 1963
Left to Right, from top: Steve Stone, Tony Sisk, Ross Clem, Jimmy Hewitt, Steve Craver, David Masters, Dick Adam, Mary Jane Carnahan, Joyce Jackson, Steven Townsend, Jimmy Peters, Dennis Horn, Larry E., Anne Porter, David Berkowitz, Eileen Saunders, Dee McGovern, Steve Kulik, Larry Palmer, Mike Berler, Rick Eason, Oralia Garcia, Melinda Leger, Barbara Mosher, Mike Pogue, Cheryl Jennings, Trudy Levy.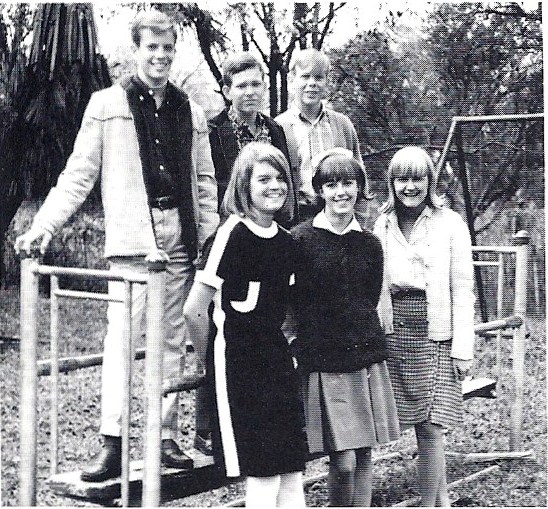 Beth Delph, Christie Shaw, Vickie Warren, Bob Alexander, Stevie Karotkin, Sandy Stokes - 1965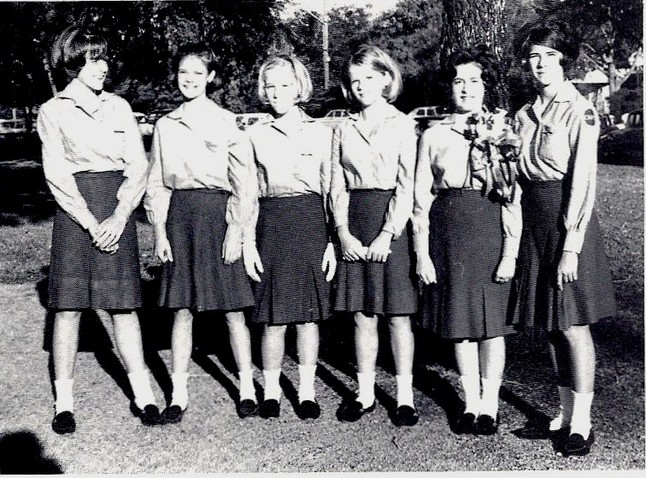 Jo Hinds, Jane Conger, Amy Lytle, Mary Moore, Nancy Holmgreen, Lynn Osborne - 1965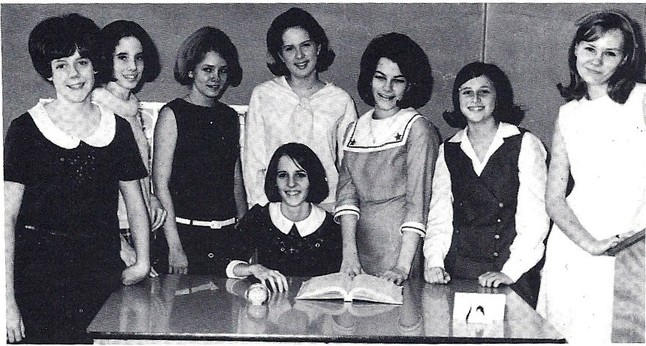 Nancy Johnson, Anna Laura Robertson, Karen Kothmann, Joanie Tibbets, Virginia Street, Andee Lachman, Susie Altgelt, Lucie Wolf - 1965
Charlie Schreiner - age 16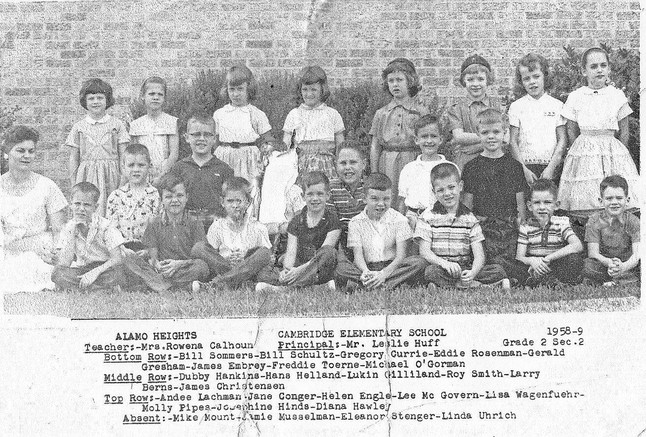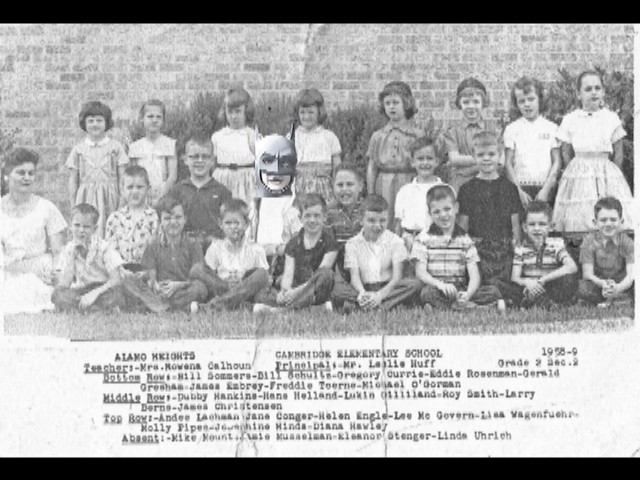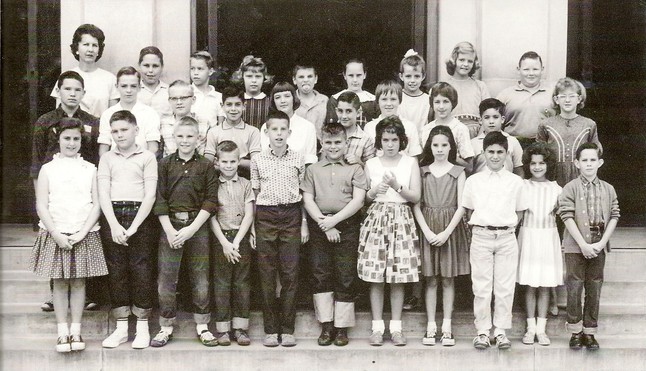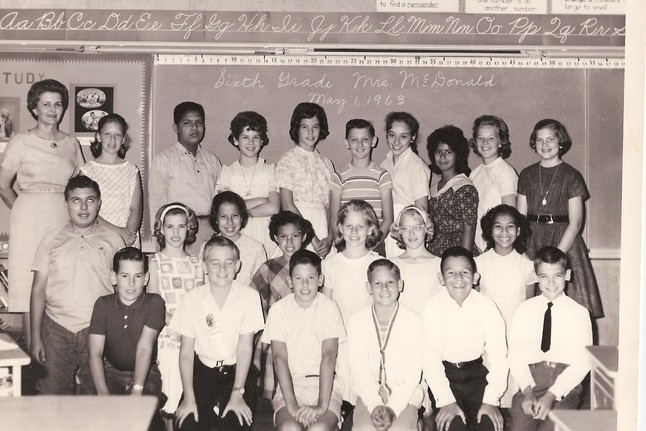 Mrs. McDonald's

sixth grade class

at Howard Scool. It includes Beverly Kunz,Valerie Rockstoh,Carolyn Clark, Gary Fitch
.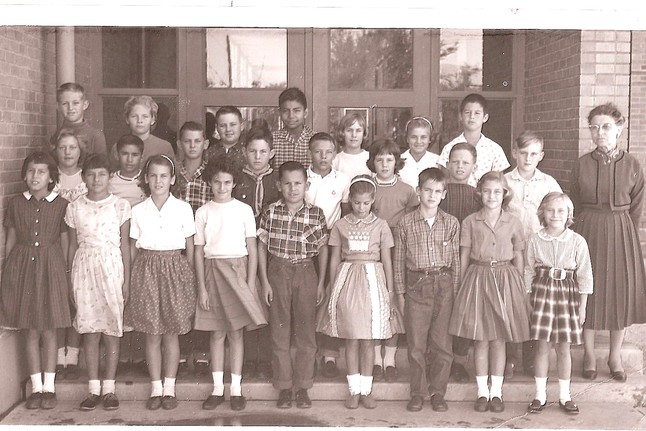 Mrs. Deviney's fifth grade class at Howard School. This one includes me (Constance Brown), Frannie Roberts, Kathy Williams, Stuart Smith, Esteban Castileja, Nancy Harbordt, Sue Carey, Eric Ruff, Scott Waggoner, and more who either didn't graduate with us or I can't remember their names.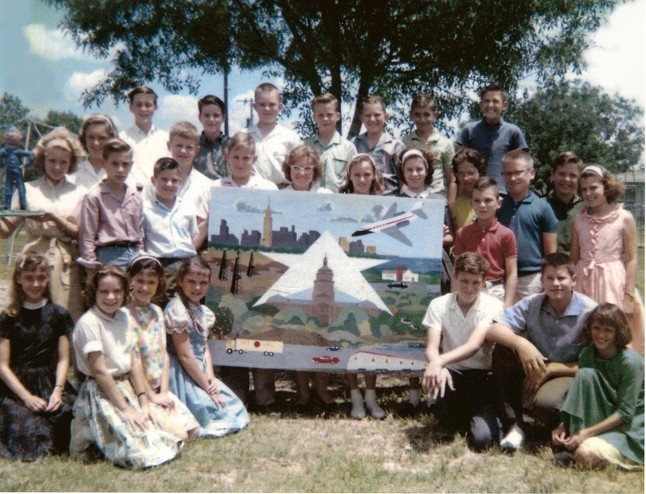 This was Sixth Grade, 1963, at Woodridge Elementary School. Do you see yourself in this photo? That's me at the bottom (Merle Rouillard) on the far right, sitting there like a little lady (arg)! I know Karen Kothman, Doug Taylor, Dwight Cobb are there for sure. I think Dan Pfeil too.
1st Row - right side -
Bobby Cohen
, Merle Rouillard
2nd Row - left side - Karen Kothmann, Doug Taylor, Dwight Cobb
2nd Row - right side - Joe McNew, Bob West, Donald Meyer
Top Row - middle -
Bob Alexander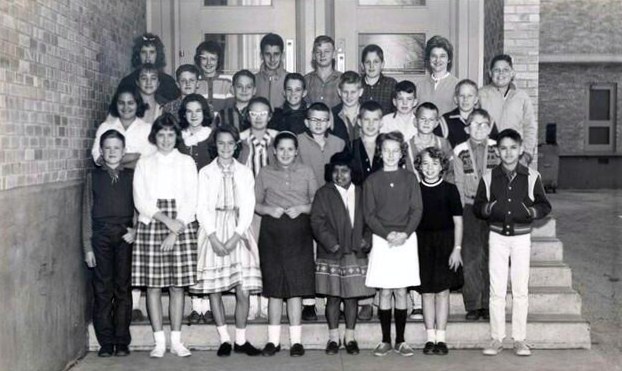 Woodridge Elementary - 6th Grade - Mrs. Sachnowitz
1st Row - 1)Stuart Ambler 2)Marie Kisner 4)Sue Carey 8)Scott Louie
2nd Row - 4)Del Ray Christensen 5)Tommy Phillips
3rd Row - 1)Mandy Proll 2) Tony Diggs 3)Don Reser 5)Bobby Benson 6)John Saunders 7)Eddie Cox
4th Row - 2) Susan Watford 3) Phillip Hinkle 4)Guy Bob Buschman 5)Randy Whitten 6) Mrs. Sachnowitz 7)David Duncan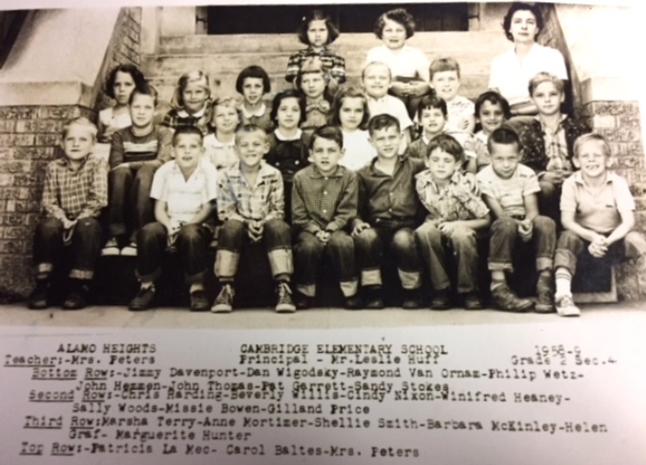 Thanks to Philip Wetz for providing this photo of Mrs. Peters's 2nd grade class.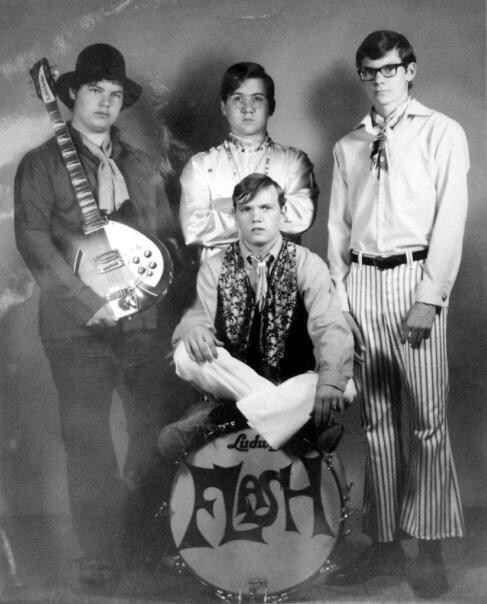 Chris Geppert (Cross), Dubby Hankins ,Keith Rubenstein ('70), Larry Mariner
Hi Gil:

Great 40th website, brought back many memories. Gil, I don't believe we ever met. I'm Dick Adam, and I grew up in San Antonio from 1956-1964 and made it through Woodridge Elementary and into AH Junior High, then our family moved to Wisconsin. I knew a lot of people in the 40th Reunion + sad to see some in the Memorial Section. I was just recently in San Antonio for a brief visit, but still had time to catch the old neighborhood where I grew up, on Brightwood and Calumet. Is there a way I can Log in to see the Bios of the kids I remember growing up with? Also, from your 20th, did you all do a Bio Booklet on everyone, "where living, kids etc. I could send $ for a copy? Either way, I'd like to see where childhood friends wound up living, doing, kids? Thanks for your help, I went to school with David Masters, Ev Sewell, Greg Waters, Mitch West etc., etc.
Thanks Gil and again, great job on organizing the AHHS 40th, I just helped with our 40th up here. I now live up here in Madison, Wisconsin.........Badger country. Thanks Gil, please let me know via my E mail above.
richard.adam@springswindowfashions.com THx
Dick