Alamo Heights High School
Class Of 1969
Mary Norman Journalism Fund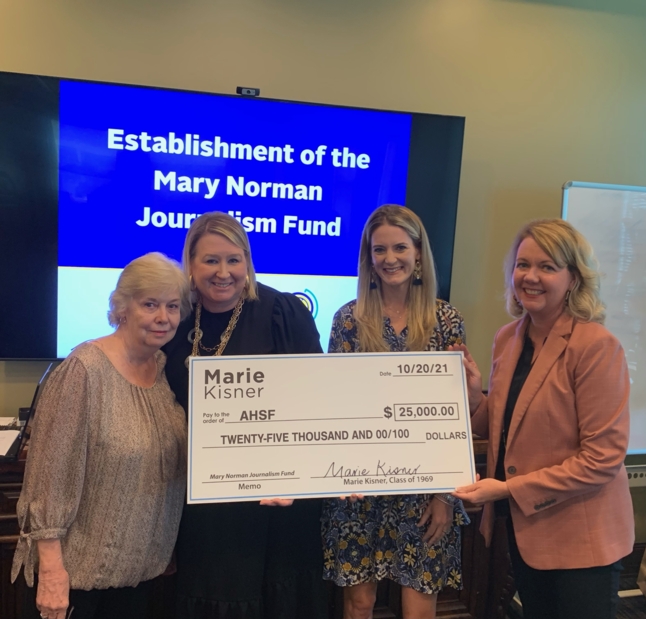 In the above photo, Marie Kisner, 1969 Hoof Print editor, presents the kickoff contribution to the Alamo Heights School Foundation establishing the Mary Norman Journalism Fund. This endowment will provide support in perpetuity for journalism education at AHHS. Accepting the "giant check" are Foundation executive director Heather McFarland, president Lauren McLaughlin, and school superintendent Dr. Dana Bashara.
Mary Norman taught journalism at Alamo Heights High School from 1967 to 1990, and sponsored the school newspaper, the Hoof Print, and our yearbook, the Olmos. She was also recognized in 1981 by Columbia University as one of the Outstanding Journalism Teachers in America.
Mrs. Norman passed away in 2009, and is fondly remembered by hundreds of students whose lives she touched and whose professional careers she inspired. For many, she was a mentor, a guiding light, even a second mother. Everyone should have a Mary Norman in their lives.
The Mary Norman Journalism Fund will continue her legacy. As long as teachers demonstrate and celebrate the best journalistic practices, and students continue to learn the essential role of a free press in a free society, we may hope for the future. We must believe in it and support it.
When fully funded at $100,000, this endowment will provide an annual donation to the AHHS journalism program. All who wish to help the Mary Norman Journalism Fund reach its goal, especially those who worked on the Hoof Print and Olmos, can send a check made payable to AHSF with "Mary Norman Journalism Fund" written on the memo line. Mail it to: Alamo Heights School Foundation, 7101 Broadway, San Antonio TX 78209. To pay online, go to ahschoolfoundation.org . Click on "Donate", then click "Donate Online". From the list of donation options, select "Other" and enter amount. From the "My Donation Is For" menu, select "Other" and then enter "Mary Norman" in the Comments box at the bottom of the form.