Alamo Heights High School
Class Of 1969
In Memory
Ricky Eason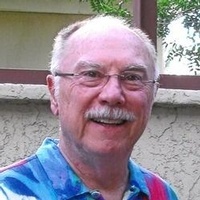 RICHARD'S OBITUARY
Richard (Rick) Bryant Eason, 67, of Georgetown, TX, passed away on September 9, 2018, after a long and valiant struggle with Frontotemporal Degeneration. He was born in Jonesboro, AR, on November 20, 1950, to Betty Jeanean Daugherty Eason and Joseph Dalton Eason. The family moved to San Antonio, TX, when Rick was only 5, so we all willingly accepted him as a Texan. He met his future bride, Patricia (Patty) Ann Schilling, when they were a mere 10 years old at the El Antonio Country Club swimming pool. Rick attended Alamo Heights High School, graduating in 1969. A couple of notable activities during his high school years included being chosen to be Ben Crenshaw's caddy in the Pecan Valley PGA Tournament and performing as lead singer for Christopher Cross's garage band. Rick went on to attend Southwestern University in Georgetown, TX where he was included in the 1973 edition of Who's Who Among Students in American Universities and Colleges. He and Patty were married on June 1, 1972, and in May, 1973, Rick graduated from Southwestern.
His career with Southwestern began before he ever graduated from the university. He was employed as an Admissions Counselor during college and soon after graduation was promoted to the position of Director of Development and Recruitment for the Houston Office. He and Patty began to miss their roots and briefly returned to San Antonio, where Rick was then recruited by Southwestern to return to work in the Development Office in Georgetown in 1980. Rick was soon promoted to the position of Vice President for Development and spent the next 20 years being a leader in higher education and development at Southwestern. In 2000, he joined the philanthropic consulting firm of Marts and Lundy. During his 6 ½ year career there, he was in great demand, working with private educational institutions, private hospitals, and other non-profit organizations that focused on environmental preservation. The University of Texas subsequently benefitted from Rick's skill for a few years as well when he was recruited to be their VP for Development. Two of his notable projects while at UT included improvements at the McDonald Observatory in Ft. Davis, TX, and the creation of the Bill Gates Computer Center. After leaving UT, Rick worked at the Texas Nature Conservancy, where he was instrumental in coordinating the plan that created the Big Bend Ranch State Park. Rick also devoted many years of non-paid support, service, and consulting to his favorite non-profit, the Lydia Patterson Institute of El Paso, TX, an organization devoted to helping Hispanic students in the border region who face many challenges to obtain a quality education.
Rick's many contributions in private life and in his career did not go unnoticed. One of the many awards he received was from his Alma Mater when Southwestern presented him with the University's Distinguished Alumnus Award in 2000 for his many achievements. Also, the Council for the Advancement and Support of Education (CASE), the leading professional organization for advancement professionals, gave Rick an honor of high distinction by inducting him into the District IV Hall of Fame in 2001.
Rick was not all work and no play. He was well-known for his outgoing personality, boundless generosity, perseverance, great intellect, and wit. Rick was always optimistic, had a thirst for knowledge, and loved to share facts of all kinds. He never knew a stranger and could light up a room with his humor, kindness, and passion for life and people. Among some of his most favorite times were conversations or meals shared with family and friends. He loved the outdoors and being active. Some of his hobbies included playing golf, biking, hiking, running, camping, and birding. He loved all animals, music, art, photography, laughing, wine, chocolate milkshakes, and watching thunderstorms just to name some of his many passions.
Rick is survived by his wife and soul mate, Patty Eason (Georgetown, TX); his sister, Susan Lynn Eason (Austin, TX); his uncle, Bob Eason, and wife, Jean (Greensboro, NC); his aunt, Pat Daugherty Blanchard (Jonesboro, AR); and his aunt, Linda Daugherty Zirkle, and husband, Jimmy (Spring, TX). Rick is also survived by loving in-laws, Kitty Schilling Knox and her husband, Mark (Dallas, TX); niece, Brooke Knox Rollins, and her husband, Adam (Carrollton, TX); and nephew, Richard Bryant Knox, and his wife, Jen, along with their children, Rick's great niece, Caroline, and great nephew, Corbin (Columbus, OH). Rick is also survived by his beloved dog, Ginger II.
Everyone who ever had the pleasure of knowing Rick will miss him greatly. The family would like to thank the staff at Georgetown Living for their loving care of Rick over this past year and would also like to thank the staff of Tranquility Hospice for their excellent care of him during his last days. A private family memorial will be held at a later date. In lieu of flowers, donations may be made to the Lydia Patterson Institute, 517 So. Florence St., El Paso, TX, 79901, or the Association for Frontotemporal Degeneration, 290 King of Prussia Rd., RSB2 Ste 320, Radnor, PA, 19087, or a worthy cause of your choice.